Influence of Teacher's Characteristics on Civic Education Implementation in Nigeria
Adaobiagu Nnemdi Obiagu

University of Nigeria, Nsukka
Keywords:
Civic education, instructional implementation, teacher education, ICT, constructivist knowledge, lifelong learning
Abstract
There is evidence of dissatisfaction of millennials with democracy and rising populist support for non-democratic forms of governance and nationalism among them. This presents challenges for civic education implementation and calls for promotion of constructivist civic teachers. Motivated by the need to apply deep civic education in inhibiting non-democratic beliefs and promoting viable strong democracy through active citizens, the present study employed a descriptive survey to investigate the influence of teacher's gender and educational background on teacher's implementation of civic education using data collected from randomly selected 16 secondary school civic education teachers and 320 secondary school students comprising 20 students of each teacher participating in the study. Two instruments were used for data collection on teachers' initial and continuous training in civic education, and teachers' implementation of civic education. Two research questions answered using mean and standard deviation, and three null hypotheses tested at 0.05 level of significance using correlation, Mann-Whitney and Kruskal-Wallis H Test guided the study. The findings showed that a high number of civic teachers did not receive prior training in civic education as well as do not engage in lifelong learning or continuous training in civic education and teaching practice. Civic teachers do not also actively engage students in civic instructions. A positive relationship exists between teacher's training in civic education and teacher's implementation of civic education. While civic teachers' educational background did significantly influence implementation of civic education, gender did not. The findings were associated to a number of factors including lack of cognition of the power of civic education in constructing, reconstructing and transforming (dys)functional societal ideologies. Promotion of lifelong learning among teachers, training of teachers in civic contents and methods, and utilization of ICT for instructional purposes were recommended.
References
Adelabu, O. & Adu, E.O. (2014). Assessment of accessibility and utilization of information and communication technology (ICT) for effective teaching of biological science in secondary schools. Mediterranean Journal of Social Sciences, 5 (23), 1439 – 1444.
Agbalajobi, D.T. (2010). Women's participation and the political process in Nigeria: Problems and prospects. African Journal of Political Science and International Relations, 4 (2), 075 – 082.
Ajaps, S. & Obiagu, A. (2019). Increasing Civic Engagement through Civic Education: A Critical Consciousness Theory Perspective. Manuscript submitted for publication.
Ali, M.A., Hayatu, G.B. & Badau, K.M. (2015). Assessment of the implementation of civic education in secondary schools in Adamawa State, Nigeria. Journal of Education and Literature, 3(4), 141-146.
Alutu, A.N. & Ifedili, C. J. (2012). Realizing the objectives of citizenship education: the need for collaborative effort of teachers and counselors. Interdisciplinary Journal of Contemporary Research in Business, 4(1), 571-579.
Ball, D.L, Thames, M.H., & Phelps, G. (2008). Content knowledge for teaching: What makes it special. Journal of teacher education, 59 (5), 389 – 407.
Banks, J.A. (2017). Failed citizenship and transformative civic education. Educational Researcher, xx (x), 1 – 12. DOI:103102/0013189x17726741
Banks, J.A. (2008). Diversity, group identity, and citizenship educational in a global age. Educational Researcher, 37 (3), 129 – 139. DOI:10.3102/0013189X08317501
Bodner, G.M. (1986). Constructivism: A theory of knowledge. Journal of chemical education, 63, 873 – 878.
Cicognania, E., Zania, B., Fournierb, B., Gavrayc, C., & Bornd, M. (2011). Gender differences in youths' political engagement and participation. The role of parents and of adolescents' social and civic participation. Journal of Adolescence XXX, 1-16, doi:10.1016/j.adolescence.2011.10.002.
Cohen, J. (1998). Statistical power analysis for the behavioural sciences. Hillsdale, NJ: Erlbaum.
Cohen, L., Manion, L., & Morrison, K. (2011). Research Methods in Education (11th ed.) London: Routledge.
Coolahan, J. (2002). Teacher education and the teaching career in an era of lifelong learning. OECD Working papers, No. 2, OECD Publishing. http://dx.doi.org/10.1787/226408628504.
Cox, C., Jaramillo, R. & Reimers, F. (2005). Education for democratic citizenship in the Americas: An agenda for action. New York: Inter-American Development Bank. Retrieved from https://www.researchgate.net/publication/254423036
De Winter, J.F. (2013). Uisng the Student's t-test with extremely small sample sizes. Practical Assessment, Research & Evaluation, 18 (10), 1 – 12.
Diamond, L. (2015). Facing up democratic recession. Journal of Democracy, 26 (1), 141- 155. DOI:10.1353/jod.2015.0009
Egwu, S. (2009). National orientation agency presentation of civics education textbooks. Retrieved on June 2013 from allafrica.com/stories/200908310860.html.
Eraut, M.E. (1994). Developing professional knowledge and competence. London: Falmer Press.
Falade, D.A. & Adeyemi, B.A. (2015). Civic education in Nigeria's one hundred years of existence: Problems and prospects. Journal of Emerging Trends in Educational Research and Policy Studies, 6 (1), 113-118.
Falade, D.A. & Falade, M., (2013). An assessment of primary school teachers' competence in the teaching of civic education in Southwestern, Nigeria. International Journal of Research and Development (IJRD), 1 (2), 19-26.
Falade, D. A. (2008). Civic education as a tool for nation building in Nigeria. Nigerian Journal of Social Studies, XI (1), 15 – 27.
Federal Ministry of Education (2016). National education quality assurance handbook for basic and secondary education in Nigeria. Abuja: FME.
Foa, R.S. & Mounk, Y. (2016). The danger of deconsolidation: The democratic disconnect. Journal of Democracy, 27 (3), 5 – 17. https://doi.org/10.1353/jod.2016.0049
Field, A. (2013). Discovering statistics using SPSS: (And sex and drugs and rock 'n' roll). 4th ed. London: SAGE.
Finkel, S.E. & Ernst, H.R. (2005). Civic education in Post-Apartheid South Africa: Alternative paths to the development of political knowledge and democratic values. Political Psychology, 26 (3), 333-364.
Freire, P. (1993). Pedagogy of the oppressed. New York: Continuum.
Fukuyama, F. (2015). Why is democracy performing so poorly?. Journal of Democracy, 26 (1), 11 - 20. DOI:10.1353/jod.2015.0017
Gagne, R.M. (1985). The conditions of learning (4th ed.). New York: Holt, Rinehart & Winston.
Gess-Newsome, J. (1999). Pedagogical content knowledge: An introduction and orientation. In J. Gess-Newsome and N.G. Lederman (Eds.). PCK and Science Education. (Pp. 3 – 17). Netherlands: Kluwer Academic Publishers.
Goldhaber, D.D. & Brewer, D.J. (2000). Does teacher certification matter? High school teacher certification status and student achievement. Educational Evaluation and Policy Analysis, 22 (2), 129 – 145.
Hammerness, K., Darling-Harmmond, L., Bransford, J., Berliner, D., Cochran-Smith, M., McDonald, M., & Zeichner, K. (2005). How teachers learn and develop. In L. Darling-Hammond & J. Bransford (Eds.) Preparing teachers for a changing world: What teachers should learn and be able to do. (Pp. 358 – 389). San Francisco: John Wiley.
Hart, S. & Wandeler, C. (2018). The impact of action civics service-learning on eight-grade students' civic outcomes. International Journal of Research on Service-Learning and Community Engagement, 6 (1), 1 – 17.
Hennessy, S., Harrison, D., & Wamakote, L. (2010). Teacher factors influencing classroom use of ICT in Sub-Saharan Africa. Itupale Online Journal of African Studies, 2, 39 – 54.
Hooghe, M. & Stolle, D. (2004). Good girls go to the polling booth, bad boys go everywhere: Gender differences in anticipated political participation among American fourteen-year-olds. Journal of Women Politics & Policy, 26(3/4), DOI: 10.1080/1554477X.2004.9971042.
Ityonzughul, T.T., Ochelle, J.O. &Aniwen, N.R. (2014). The role analysis of civic education in Nigeria's national development. Journal of Development, 1 (4), 36-45.
Iyamu, E.O.S. & Obiunu, J.J. (2005). Impact of citizenship education on the civic consciousness of Nigeria youth. Journal of Instructional Psychology, 32 (4), 305-309.
Kahne, J., David, C. & Lee, N. (2013). Different pedagogy, different politics: high school learning opportunities and youth political engagement. Political Psychology, 34 (4), 419-441.
Kılınc, E. & Tarman, B. (2018). Global citizenship vs. patriotism: The correlation between pre-service teachers' perception of patriotism and global citizenship. In A. Rapoport (Ed.), Competing Frameworks: Global and National in Citizenship Education. Charlotte, NC: Information Age Publishing.
Levinson, M. (2014a). Action civics in the classroom. Social Education, 78 (2), 68-72.
Levinson, M. (2014b). Citizenship and civic education. In Philips, D.C. (ed.) Encyclopaedia of educational theory and philosophy. Thousand Oaks, CA: Sage. Retrieved from http://nrs.harvard.edu/urn-3:HUL.InstRepos:12701475Margaret, S.B. (2000).The role of civic education: A forthcoming education policy task force position paper from the communitarian network. Retrieved from http://www.civiced.org/papers/articles_role.html.
Mofoluwawo, O.E., Jarimi, M. & Oyelade, T. (2012). The instruction mentality of civic education in molding the youths: A case study of college of education students in Oyo town, Nigeria. International Journal of Humanities and Social Science. 2(3), 269-276.
Noddings, N. (2012). Peace education: How we come to love and hate war. Cambridge: Cambridge University Press.
Obiagu, A. & Ajaps, S. (2019). Sociopolitical development perspective to action citizenship in emerging democracy: What civil societies and (in)formal educators need know and do. Manuscript submitted for publication.
Ogundare, S.F. (2002). Social studies: A character education for ethnic conflict management. Nigerian Journal of Social Studies, VI (1&2), 178-190.
Okam, C.C. & Lawal, H. (2011). Exploring civic education for effective citizenship in the task of national building in Nigeria. Nigerian Journal of Social Studies, xiv (1), 1-20.
Okobia,E.O. (2016). An assessment of teaching methods used by social studies teachers in junior secondary schools in Edo State, Nigeria. Educational Research International, 5 (2), 32 – 43.
Pantic, N. & Florian, L. (2015). Developing teachers as agents of inclusion and social justice. Education Inquiry, 6 (3), 333 – 351.DOI:10.3402/edui.v6.27311.
Pharr, S.J. & Putnam, R. D. (2018). Disaffected democracies: What's troubling the trilateral countries. Princeton, NJ: Princeton University Press.
Reimers, F.M., Ortega, M.E., Cardanas, M., Estrada, A. & Garza, E. (2014). Empowering teaching for participatory citizenship: Evaluating the impact of alternative civic education pedagogies on civic attitudes, knowledge, and skills of eight-grade students in Mexico. Journal of Social Science Education, 13 (4), 35-50. DOI:10.2390/jsse-viz-i4-1357.
Sahin, M., Akbasil, S., & Yelken, T.Y. (2010). Key competencies for lifelong learning: The case of prospective teachers. Educational Research and Review, 5 (10), 545 – 556.
Sander, T.H. & Putnam, R.D. (2010). Still bowling alone? The post-9/11 Split. Journal of Democracy, 21 (1), 9 – 16. DOI: 10.1353/jod.0.0153
Sharples, M. (2000). The design of personal mobile technologies for lifelong learning. Computers and Education, 34, 177 – 195.
Shulman. L.S. (1987). Knowledge and teaching: Foundations of the new reform. Harvard Educational Review, 57, 1 – 22.
Tarman, B. & Doganay, A. (2017). Active democratic citizenship education: a curriculum for preventing gender bias and bullying, Brown, Elinor, Rhonda Craven, George McLean (Ed.) International Book Series: International Advances in Education: Global Initiatives for Equity and Social Justice Gender Equity Volume 10, Information Age Publishing
Torney-Purta, J., Schwille, J., & Amadeo, J. (1999). Civic education across countries: Twenty-four national case studies from the IEA civic education project. Netherlands: Eburon Publishers.
Wheeler-Bell, Q. (2012). Educating the spirit of activism: A "critical" civic education. Educational Policy, XX (X), 1 – 24. DOI: 10.1177/0895904812465113
Westheimer, J. (2019). Civic education and the rise of populist nationalism. Peabody Journal of Education, 94 (1), 4 – 16. DOI:10.1080/0161956x
Westheimer, J. & Kahne, J. (2004). What kind of citizen? The politics of educating for democracy. American Educational Research Journal, 41 (2), 237 – 269.
Wing, Y. L., (2009). Understanding and attitudes towards moral and civic education among primary school teachers in Hong Kong. Asian Social Science. 5 (7).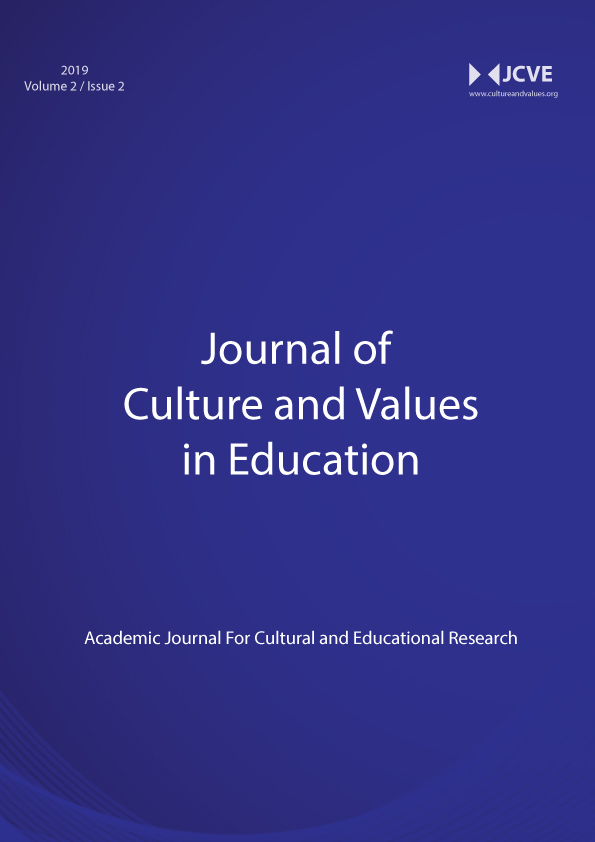 How to Cite
Obiagu, A. (2019). Influence of Teacher's Characteristics on Civic Education Implementation in Nigeria. Journal of Culture and Values in Education, 2(2), 1-20. https://doi.org/10.46303/jcve.02.02.1